We had the pleasure of ending our 2011 inaugural season of the Studio Series with a moving, retrospective poetry reading by W.F. Lantry, and a fine set of performances by Gabriel Schaff and Kathleen Riley celebrating the composers of 1810, including pieces by Chopin, Wagner, and Lizst.
Playlist: Studio Series 11/26/2011
After the last chairs were brought out to accommodate the sold-out crowd, host Annabelle Moseley welcomed our audience and performers, and introduced Gabriel Schaff on violin and Kathleen Riley on piano, as they took the stage with a selection of works for violin and piano. Following the music, W.F. Lantry gave a fine reading, filled with glimpses of moving moments along his life's journey. Our evening closed with a rousing second set of music for violin and piano, and our open mic session.
We at String Poet would like to thank all of our poets, musical guests, and our audience for making this first season of the Studio Series a resounding success, and invite you to look forward to our 2012 season when it resumes in February. See you then!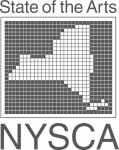 This event was funded in part by Poets and Writers, Inc. with public funds from New York State Council on the Arts, a state agency.