On Saturday, October 29th, those who braved the weather to experience and support the live arts were rewarded with a beautiful conversation of poetry and music. Due to the unusually severe October snowstorm that struck Pennsylvania, Barbara Crooker was not able make this event.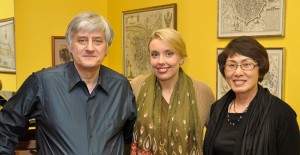 The evening began as host Annabelle Moseley welcomed the audience and introduced the Kim-Stuckenbruck duo of Haewon Kim and Dale Stuckenbruck. Haewon Kim performed on a Steinway Boston Baby Grand piano provided by Steinway & Sons Used Piano Gallery in Melville, while Dale Stuckenbruck performed on his violin made by none other than Charles Rufino. It was a delight to hear such a virtuosic performance in the intimate space of the Great Room.
Poet Annabelle Moseley followed, continuing the the autumnal themes of beauty and loss with a series of moving, musical poems spanning her collection of five chapbooks, as well as her forthcoming full-length collection.