On May 25th, 2012, String Poet brought together poetry and music in celebration of the 2012 String Poet Prize, as we launched Volume II, Issue 1 of String Poet.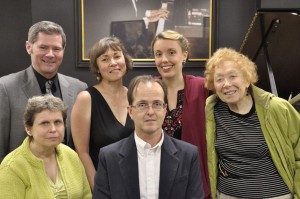 Hosted by Annabelle Moseley, the event featured a concert by Composer and Featured Musician Barry Tognolini, a reading by 2012 Finalist Judge Kim Bridgford, and a reading of the Honorable Mention and Runner-Up poems, including Muriel Harris Weinstein and Maxine Silverman. Claire Nicolas White spoke about her late husband, Robert White, and his art, which is featured in the String Poet journal. Claire also read two poems, which can be found in this issue.
All of this leading up to the culmination of the evening, the emotional peak — as the journal was launched, J. D. Smith read his winning poem, "Upkeep," followed by Barry Tognolini's premiere of his inspired composition, "Tristezza".
Playlist: 2012 String Poet Prize Award Ceremony
The video has highlights of the evening, including poetry by Kim Bridgford, Muriel Harris Weinstein, Maxine Silverman, and J. D. Smith, and music performance by Barry Tognolini.