Playlist: 2013 String Poet Prize
Thanks to those who joined us for this very special event!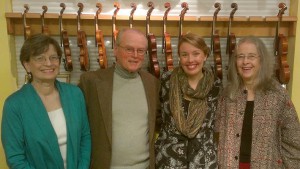 Hosted by Annabelle Moseley, our award ceremony will feature a reading by Final Judge George Held, and selected readings from the runners-up and finalist poems. As the journal goes live on-line, Jean L. Kreiling will read her winning poem, "Doubt Springs," followed by the debut performance of Eleanor Cory's composition, inspired by the winning poem. The piece will be performed by Lynn Bechtold and Kirsten Jermé.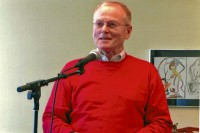 Final Judge: George Held is a widely published fiction writer, satirist, translator, book reviewer, and a poet who has received seven Pushcart Prize nominations. He was a three-year Fulbright lecturer in Czechoslovakia and has served on the board of The South Fork Natural History Society since 1991. His fifteenth book is After Shakespeare: Selected Sonnets (Červená Barva Press, 2011). His most recently published book is Neighbors: The Yard Critters Too (Filsinger & Company, 2013), the second volume of animal poems for children, illustrated by Joung Un Kim.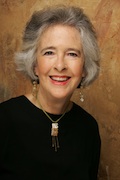 Composer: Eleanor Cory's work has been recognized by awards from the National Endowment for the Arts, New York State Council on the Arts, New York Foundation for the Arts, Mary Flagler Cary Charitable Trust, Fromm Foundation of Harvard University, Aaron Copland Fund, Alice M. Ditson Fund of Columbia University, Morse Grant of Yale University, MacDowell Colony, and PSC-CUNY Research Foundation. She has received an American Composers Alliance Recording Award, the Miriam Gideon Award from the International Association of Women in Music, as well as prizes from the Hollybush, Kucyna, and Music of Changes International Competitions, and the Davenport, and New Jersey Guild of Composers Competitions. She has composed musical setting of poems by James Merrill, Marvin Bell, Robert Creeley, Rachel Hadas, Mark Strand, Octavio Paz, W.S. Merwin, David Ignatow, Muriel Rukeyser, and Wallace Stevens. Her poems have been published in Iambs and Trochees and Poetry Porch: Sonnet Scroll. She currently teaches Composition at Mannes College of Music.
Violinist/composer Lynn Bechtold has appeared in recital throughout North America and Europe, and has premiered solo/chamber works by composers such as Gloria Coates, George Crumb, John Harbison, Alvin Lucier, and Morton Subotnick. As a member of groups including Zentripetal, Bleecker StQ, Miolina, SEM, and the NY Symphonic Ensemble, she has performed around the world, and been broadcast on various TV and radio, including the CBS Morning Show and 30 Rock. Other programs have been with Absolute Ensemble, Catalyst Dance, DJ Spooky, Eternal Tango Orchestra, EVOC, North/South Consonance, Parsons Dance, Paul Taylor Dance Co., VisionIntoArt, and Pablo Ziegler. She's also played with entertainers such as Boyz II Men, Willie Colon, Sheryl Crow, Darcy James Argue's Secret Society Band, Dead Can Dance, Escort, Roberta Flack, Left Banke, Smokey Robinson, SMAP, and Donna Summer. An active performer, she has appeared at diverse venues, from Lincoln Center and Carnegie Hall to LPR and Joe's Pub, and her electroacoustic compositions have been performed at venues such as the Austrian Cultural Forum and the Bohemian National Hall, and on the Composers Concordance and Music With A View Festivals. She holds degrees from Tufts University, New England Conservatory, and Mannes, where she was a student of noted violinist Felix Galimir. She is on the faculty at The Dwight School and Greenwich House Music School in NYC and is a coach for the Norwalk Youth Symphony in CT.
A native of Wisconsin, cellist Kirsten Jermé leads an active musical life as a performer and educator in New York City. Kirsten completed her M.M. in Cello Performance and Arts Leadership Certificate at the Eastman School of Music, where she studied with Steven Doane. She received her B.A. from Stony Brook University, under the tutelage of Colin Carr and the Emerson String Quartet. An avid chamber musician, recitalist, and orchestral cellist, Kirsten has performed at Carnegie, Weill and Zankel Halls, Alice Tully Hall, Symphony Space, W.M.P. Concert Hall, the Joyce Dance Theatre and Le Poisson Rouge in New York, Royal Festival Hall in London, and the Banff Arts Centre in Canada, and has participated in festivals including Norfolk Chamber Music Festival and the Banff Masterclasses for Strings and Winds. Dedicated to education, community, and public service through the arts, Kirsten has worked as an administrator and teacher for a variety of arts non-profits. She was deeply involved in community outreach and public school programs as an employee of Turtle Bay Music School and as an intern at the Eastman Community Music School. At Stony Brook University, Kirsten helped launch an arts outreach program through the Staller Center for the Arts, and co-directed the annual Music for Peace Project. Kirsten is currently on faculty at Greenwich House Music School in Manhattan and the Larchmont Music Academy in Westchester, and has taught at P.S. 129 in Harlem for The Harmony Program, modeled on Venezuela's El Sistema.