The 2014 String Poet Prize
Less than a week left to submit! Deadline is May 20th
---

David Yezzi is the author of The Hidden Model (TriQuarterly, 2003); Azores (Swallow, 2008), a Slate magazine book of the year; and Birds of the Air (2013), a Publishers Weekly pick. He is the editor of The Swallow Anthology of New American Poets (2009), foreword by J. D. McClatchy. A former director of the Unterberg Poetry Center of the 92nd Street Y in New York, he is poetry editor of The New Criterion and an editor of The Hopkins Review.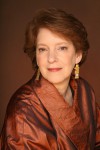 Judith Shatin is a composer and sound artist whose musical practice engages our social, cultural, and physical environments. She draws on expanded instrumental palettes and a cornucopia of the sounding world, from machines in a deep coal mine, to the calls of animals, the shuttle of a wooden loom, a lawnmower racing up a lawn. Timbral exploration as well as collaboration with musicians, artists and communities are central to her musical life. Her music reflects her multiple fascinations with literature and visual arts, with the sounding world, both natural and built; and with the social and communicative power of music.
First Prize: $1000
and Commission of Original Music inspired by the winning poem
Final Judge: David Yezzi
Composer: Judith Shatin
Submissions Deadline: May 20, 2014
Entry Fee: $15, up to 5 poems
Each year, the String Poet Prize offers a thrilling, unique experience for the winning poet: to hear original music inspired by their winning poem — composed by a professional composer, and debuted and recorded at the String Poet Awards Ceremony. For the first time this year, along with that great honor, the monetary prize will be $1000.
Read the guidelines and enter now!
Now accepting submissions on-line and by post.
See the String Poet web site for full guidelines.