String Poet Volume II, Issue 2 (Winter 2012)
We are pleased to announce that Volume II, Issue 2 of String Poet is on-line, featuring fine poetry and translations, art by Rosemary Starace, and music by violinist Shem Guibbory. To see the list of contributors, and peruse the issue, visit String Poet.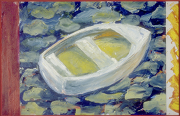 ---
2013 String Poet Prize
Submissions are now being accepted for the 2013 String Poet Prize. Both on-line and postal entries are accepted — see the contest guidelines for more information or to submit on-line.
Submissions Deadline: Feb. 25th
First Prize: $200 and composition of original music, inspired by the winning poem.
Final Judge: George Held is a widely published poet, fiction writer, satirist, translator, book reviewer, and a poet who has received five Pushcart Prize nominations. He was a three-year Fulbright lecturer in Czechoslovakia and has served on the board of The South Fork Natural History Society since 1991. His poems, stories, translations, and book reviews have appeared widely, in such places as Commonweal, Confrontation, New York Quarterly, 5AM, and The Notre Dame Review, and Garrison Keillor read one of George's poems on NPR.
Composer: Eleanor Cory has received an American Composers Alliance Recording Award, the Miriam Gideon Award from the International Association of Women in Music, as well as prizes from the Hollybush, Kucyna, and Music of Changes International Competitions, and the Davenport, and New Jersey Guild of Composers Competitions. She has composed musical setting of poems by James Merrill, Marvin Bell, Robert Creeley, Rachel Hadas, Mark Strand, Octavio Paz, W.S. Merwin, David Ignatow, Muriel Rukeyser, and Wallace Stevens.