A Timeless Evening with Annabelle Moseley and Gabriel Schaff
Book Launch Event : Saturday, March 31st, 5:00 PM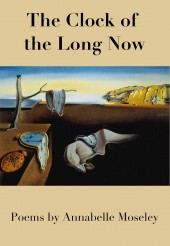 Join us this Saturday, March 31 at 5:00 PM for a special event as we celebrate the launch of Annabelle Moseley's new poetry collection, The Clock of the Long Now, with a reading from the book and a program of music for solo violin, inspired by The Clock of the Long Now, by violinist Gabriel Schaff, including works by Telemann, Bach, Enescu, and the US premiere of Svitlana Azarova's "The Violinist's Morning Espresso".
A book signing will follow (ticket holders receive a $3 discount).
Tickets are selling fast, so be sure to get yours in advance to reserve your seat!
Visit String Poet for more information and to purchase tickets (online tickets are discounted vs. the door price).
---
String Poet Volume I, Issue 2 (Winter 2011)
If you haven't read it yet, check out the second issue of String Poet, featuring a fine collection of poetry, art by Steve Forster, and music by Pedro de Alcantara. To see the list of contributors and read the issue, visit String Poet.