String Poet Volume I, Issue 2 (Winter 2011)
Our second issue of String Poet is available, featuring a fine collection of poetry, art by Steve Forster, and music by Pedro de Alcantara. To see the list of contributors and read the issue, visit String Poet.

---
2012 String Poet Prize
Submissions are now being accepted for the 2012 String Poet Prize. The contest theme is "Remembrance". Both on-line and postal entries are accepted — read the guidelines for more information.
---
String Poet Goes Mobile
String Poet is now available in a mobile format for those on the go! The mobile format will be displayed on your hand-held device, including Android-based phones, Blackberry, iPhone, or iPod touch.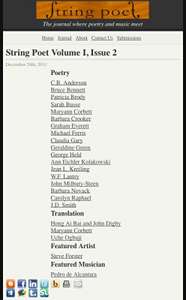 ---
Next Month
Look for our 2012 Spring Calendar, coming soon!