October Studio Series Event: Barbara Crooker with Dale Stuckenbruck and Haewon Kim
Saturday, October 29th at 5:00 PM
Hosted by Annabelle Moseley at the Long Island Violin Shop
8 Elm Street, Huntington, NY 11743
Open Mic to follow. Visit the String Poet web site for directions or to purchase a ticket.
Seats are limited: reserve yours now!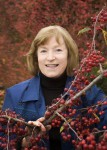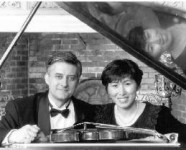 String Poet invites you to join us this Saturday as we welcome poet Barbara Crooker and the Kim-Stuckenbruck Duo, with Dale Stuckenbruck on violin, and Haewon Kim on piano, for what promises to be one of the best nights of poetry and music of the season!
Barabara Crooker's poems appear in a variety of literary journals and many anthologies, including Good Poems for Hard Times (Garrison Keillor, editor)(Viking Penguin) and the Bedford Introduction to Literature. Her poetry has been read on the BBC, the ABC (Australian Broadcasting Company), and by Garrison Keillor on The Writer's Almanac. Recently, she read in the Poetry at Noon series at the Library of Congress.
Dale Stuckenbruck has performed as soloist/concertmaster with the Brooklyn Philharmonic, New York String Ensemble, Tchaikovsky Chamber Orchestra, Taipei City Symphony Orchestra, Music at St. Ignatius, Dance Theater of Harlem, Queens Symphony, Masterworks, and Long Island Philharmonic.
Haewon Kim has been a soloist with regional orchestras in the United States and has appeared as chamber musician with such groups as the Bronx Arts Ensemble, The Pierrot Consort, and the Colonial Symphony, and has appeared with the KBS at the opening of the Sejong Arts Center in Korea. She is on the faculty of the C.W. Post Campus of Long Island University as an instrumental coach and is very active in the Korean musical community.
---
Women Writers of Tomorrow Award Ceremony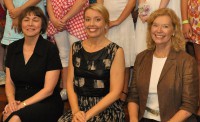 The 2011 String Poet Women Writers of Tomorrow Awards Ceremony was held on September 25th at the Walt Whitman Birthplace. Featured readers for the event were Kim Bridgford, Founder of the Mezzo Cammin Women Poets Timeline, and Annabelle Moseley, Founder of String Poet. The awards and certificates were presented by Kim Bridgford, Annabelle Moseley, and Cynthia Shor, Executive Director of the Walt Whitman Birthplace Association. After the awards and prizes were presented, the 1st, 2nd, and 3rd place winners and Honorable Mention authors were invited to read their entry. It was heartening to see so many young women sharing their work, and to catch a glimpse of the writers of tomorrow.
---
Photos from the September Studio Series: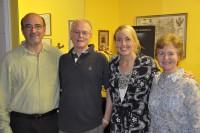 Click on the photo to see more from this fine event, with poets George Held and Barbara Novack, and Harris Becker on classical guitar and baroque guitar. George and Barbara read beautifully, and Harris delighted the crowd with the U.S. debut of "Three Moods for Guitar" by Michael Frassanti. This event had one of the most memorable and enjoyable open mic performances, as many were inspired by George Held's poem about the moon to read their own poems on that subject.